BomeBox™: the MIDI Hub for Stage and Studio
The BomeBox is the solution for connecting and mapping devices via MIDI, Ethernet, WiFi, and USB (without the need of a computer). Cross-connect USB-MIDI devices (powered by the BomeBox), MIDI 5-pin DIN, other BomeBoxes, and computers.
MIDI Translator Pro in a Box
The BomeBox can run basic or complex mappings and scripts on the MIDI data in realtime: load and execute
Bome MIDI Translator Pro
project files for all your MIDI needs (MIDI Translator Pro is sold separately).
"I'm absolutely pleased with the BomeBox. It's doing everything I hoped it would do and feels very reliable.
Ben Goldwasser (Keyboardist and Tech, MGMT)
"We use the BomeBox as the central routing interface for all rehearsals and performances in our theater. So the question is not if you need a BomeBox at all. The question is: how many?
Martin Sraier-Krügermann (Kammerspiele Munich)
"BomeBox...haven't seen that kind of ingenuity since the early MIDI days.
Lug N.
The ultimate Plug-and-Map Experience

Key Features
Robust, reinforced ABS case
MIDI-DIN: 1x input, 1x output. You can add more via the USB Host
USB Host Type A: supports USB-MIDI devices, USB hubs, multi-port USB-MIDI devices
Built-in MIDI Router: unlimited virtual MIDI patch bay
Quick reconfiguration via tablet, smartphone, or computer
Create long distance MIDI connections via Ethernet
MIDI Networking: centralized access to all MIDI devices connected to the Ethernet network
Built-in 2-port Ethernet switch
Wireless MIDI connections via built-in WiFi
WiFi works as Hotspot, hub, or client
Connects to Windows and macOS using Ethernet or WiFi (Bome Network tool)
Unlimited mappings/splits/scenes/conditional routing and MIDI processing with built-in MIDI Translator Pro engine
Standard power supply: 5V micro-USB
Extra robust power supply: Power-over-Ethernet (PoE) with 48V
Pass on PoE and MIDI connections using PoE Out port
Small and light: 180g / 6.3oz
Product Brochure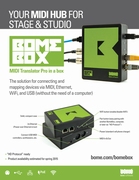 Downloads
Bome Network
For creating Network MIDI connections via Ethernet and/or WiFi to a computer, use the Bome Network tool.
→ Bome Network Tool
BomeBox Firmware
Currently, there is no new firmware available, but in future, we will offer firmware upgrades for the BomeBox to add new functionality.