BomeBox™: the MIDI Hub for Stage and Studio
The BomeBox is the solution for connecting and mapping devices via MIDI, Ethernet, WiFi, and USB (without the need of a computer). Cross-connect USB-MIDI devices (powered by the BomeBox), MIDI 5-pin DIN, other BomeBoxes, and computers.
MIDI Translator Pro in a Box
The BomeBox can run basic or complex mappings and scripts on the MIDI data in realtime: load and execute
Bome MIDI Translator Pro
project files for all your MIDI needs (MIDI Translator Pro is sold separately).
"BomeBox…haven't seen that kind of ingenuity since the early MIDI days."
Lug N.
The ultimate Plug-and-Map Experience

Product Brochure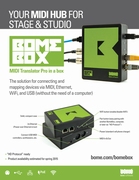 Downloads
Bome Network
For creating Network MIDI connections via Ethernet and/or WiFi to a computer, use the Bome Network tool.
→ Bome Network Tool
BomeBox Firmware
Currently, there is no new firmware available, but in future, we will offer firmware upgrades for the BomeBox to add new functionality.