Bome™ Software is a small team of professional software developers creating powerful applications since 1996. The success of the works of Florian Bömers lead to the formation of Bome Software and the ongoing development of innovative music software and development tools.
Bome Software has developed and released MIDI and audio software for Windows, macOS, iOS, Android, and Linux. 2015 marks a new milestone with the introduction of the first hardware product, the BomeBox™: a versatile USB, MIDI, and Ethernet connector and processor.
As a small and flexible team, we can offer individual services for your specific needs. We are dedicated to continuous development and provide qualified support beyond anonymous telephone hotlines. Thousands of satisfied customers worldwide — ranging from individuals, music studios, theaters, governments, to Fortune 500 companies and Oscar winners — already benefit from Bome's products and services. Please see some customer testimonials.
Bome Software is an active member of the MIDI Manufacturers Association, participating in the standardization process of next generation MIDI standards.
Partners and Jobs
The Bome staff is experienced in consulting projects and able to create customized versions for specific applications, or for bundling with your products. For any inquiries, please contact us.
We are always looking for dedicated and skilled people to join our team. Please contact us for more information.
We are also looking for partners and re-sellers worldwide. If you have a matching background and interest, please get in contact with us.
Contact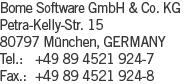 Email: https://www.bome.com/contact
Complaints Procedure
If you have complaints about us or our products, please contact us using our contact form.

Alternative Dispute Resolution in accordance with Art. 14 (1) ODR-VO and § 36 VSBG:
The european commission provides a platform for online dispute resolution (OS) which is accessible at https://ec.europa.eu/consumers/odr. We are not obliged nor willing to participate in dispute settlement proceedings before a consumer arbitration board.
Imprint
Bome Software GmbH & Co. KG
Petra-Kelly-Str. 15
80797 München, GERMANY
Amtsgericht München HRA95502
VAT ID: DE271182542
WEEE-Registration: DE43133930
LUCID Verpackungsgesetz: DE1521939353284
Personal Liability/Gesellschafterin:
Bome Komplementär GmbH
CEO/Geschäftsführung: Florian Bömers
Amtsgericht München HRB185574
Bome and BomeBox are (registered) trademarks of Bome Software GmbH & Co. KG.