Bome Software is a small team of professional software developers creating powerful applications since 1996. The company was founded around the works of Florian Bömers, who released his first commercial software in 1995. The success of these programs led to the formation of Bome Software and the ongoing development of innovative music software and development tools.
Our goal is to create affordable tools that reduce learning curve and boost creativity. As a small and flexible team, we can offer individual services for your specific needs. We are dedicated to continuous development and provide qualified support beyond anonymous telephone hotlines. Thousands of satisfied customers worldwide — ranging from individuals to governments to Fortune 500 companies — already benefit from Bome's products and services. See some customer testimonials here and here.
Originally, Bome targeted the Windows platform. Since 2008, the core MIDI engine and the flagship product Bome's Midi Translator are available for Mac OS X, too. 2010 marked a new milestone with the release of the first iPhone app After the Beep!, which showcases Bome's efficient realtime audio processing engine.
Furthermore, Bome Software is an active member of the MIDI Manufacturers Association, participating in the standardization process for the next generation of MIDI.
partners and jobs
The Bome staff is experienced in consulting projects and able to create customized versions for specific applications, or for bundling with your products. For any inquiries, please contact us.
We are always looking for dedicated and skilled people to join our team. Please contact us for more information.
We are also looking for partners and re-sellers worldwide. If you have a matching background and interest, please get in contact with us.
contact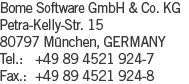 Email: http://www.bome.com/contact
VAT ID: DE271182542
Imprint
Bome Software GmbH & Co. KG
Dachauer Str.187
80637 München, GERMANY
Amtsgericht München HRA95502
Personal Liability/Gesellschafterin:
Bome Komplementär GmbH
CEO/Geschäftsführung: Florian Bömers
Amtsgericht München HRB185574
Bome is a registered trademark of Bome Software GmbH & Co. KG.