What is PostcardWare ?
We enjoy the concept of PostcardWare.
Basically, PostcardWare means that you can use a software free of any payment (see exceptions below), but to legally use it after you have tried it, you must send us a postcard. Yes, a real postcard!
See the postcards
See a selection of the best postcards sent to me from all over the world by clicking on the world map:
A Postcard ?
Yes. We enjoy receiving postcards from all over the world. We also think it's a nice way for users to show appreciation without becoming poor – sending a postcard is cheap anywhere in the world.
Many people seem to think this is a joke, but it's not. We take it seriously, and you can't get a license of the PostcardWare programs by sending an email or a web-card (virtual postcard). The only way of getting a license is by sending a real postcard which we can hold in our hands (or by paying for the program; details below). Of course, you can also send other souvenirs or things from your country.
Restrictions
PostcardWare is only meant for private use. If you use the software commercially (i.e. in a company, or you use it in any way related to you making money), you have to purchase the software. Payment is usually done online on a secure server, or in many other ways. Refer to the respective program page for more information.
Think of a postcard as real payment. If you urgently need the license, you can pay the monetary fee and will immediately receive the key to remove the reminder screen at start-up of the program.
Where do I send the postcard ?
Send it to this address: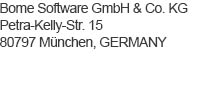 Always include:
Program name
Your full name
Your email address
Please allow 4-10 weeks for delivery and processing of the postcard!
Of course you can also pay the purchase fee to get the license key.